I have been using the Canon EOS 200D/ Rebel SL2 for creating YouTube videos and it has honestly been a joy to use. In fact, the Canon SL2 satisfies all my needs that even after the Canon SL3 launched in 2019, I still do not feel like I need to upgrade!
In this blog post, I want to help you understand what makes a camera great for YouTube and if the Canon SL2 really is the best camera in India for creating YouTube videos!
The Canon SL2 with its ability to record 1080p at 60FPS, dual pixel autofocus and swivel touch screen and available for purchase at a super affordable price in India makes it "THE BEST" DSLR camera for beginner YouTubers. No Doubt!
As a YouTuber who films by himself. the dual pixel autofocus and swivel screen makes it super easy to record videos. But those aren't the only reason. Keep reading to learn more.
I'm going to review the Canon SL2 from a YouTuber's perspective, and not from a photographer's perspective. At the end of this blog post, I am also going to talk about two other cameras which are often overlooked, but are extremely capable when you need to make YouTube videos.
(Hey I am interested to know what camera you are using right now let me know in the comments section!)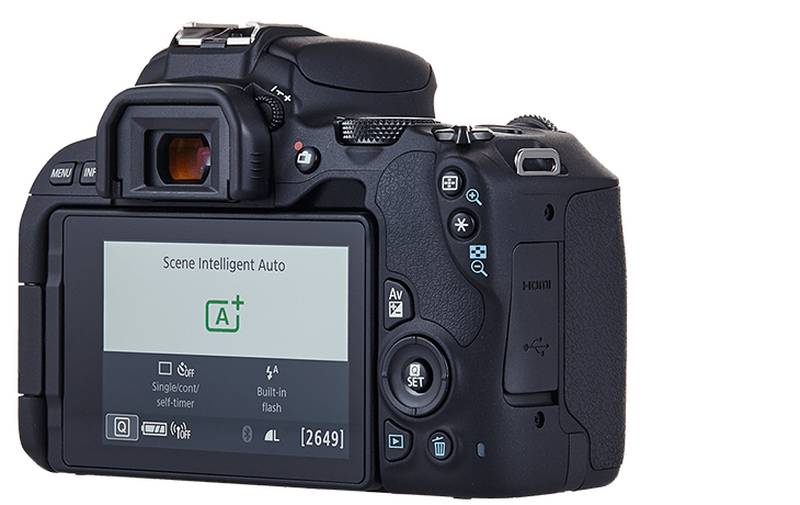 Check out the latest price of the Canon SL2 here.
What is the Canon 200D?
The Canon EOS 200D (called Rebel SL2 in North America) is one of the world's lightest and smallest DSLR camera and comes as a contender to mirror-less cameras which are becoming more popular because of their size and easy to use touch navigation system.
So here is the Short answer! Yes, this camera could very well be the best DSLR camera for making YouTube videos in 2018 and even 2019 and that's pushing it!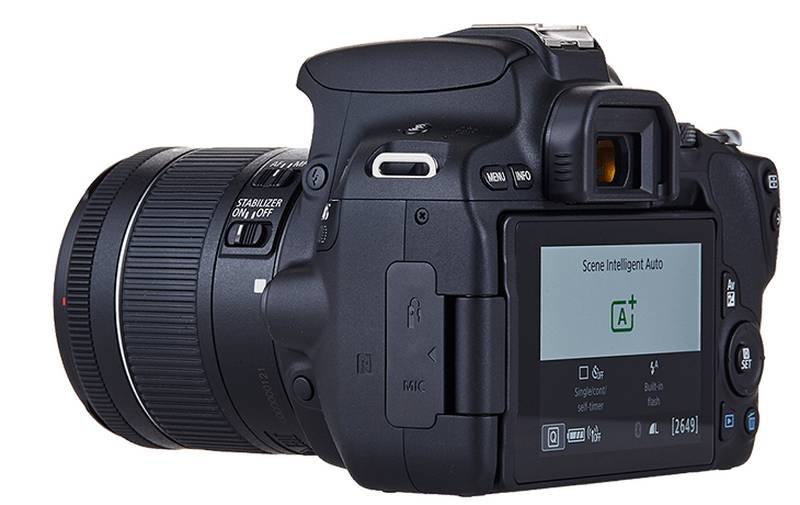 Let's take a look at what you get in the box. (Unboxing)
My Canon SL2 / 200D Setup
Canon 200D camera body
Canon 18-55mm Kit lens
Camera battery and charger
Camera strap
16GB memory card
Warranty and user manual documents
There are two main reasons why the Canon 200D is amazing.
Feature rich, yet low cost
Small, portable and usable to record videos of all genres like vlogs, travel videos, tutorials etc.
This gives the Canon EOS 200D an incredible advantage over many other cameras in this segment.
Let's look at each one separately!
FEATURE RICH – LOW COST
The 24 megapixel 200D / SL2 offers Dual Pixel CMOS AF for the world's fastest Live View focusing, a vari-angle screen with touchscreen capabilities, a 63-zone metering sensor, 9 autofocus points, ISO range of 100-25,600 (expandable to 51,200), a guided user interface, DIGIC 7 processor and 5fps continuous shooting, and Bluetooth, NFC and Wi-Fi connectivity.
The 200D's video mode offers 1080p Full HD recording at 60/50/30/25/24fps with full manual control over exposure and gain.
The Canon 200D is definitely featured packed. Some features are often only found in some of the higher-end cameras which often cost more than 70000- 80000 rupees (INR).
This is why the Canon SL2 has been in the headlines. This camera gives new YouTubers the opportunity to improve their video production quality for a very low price.
Here's what each of those features means to a YouTuber!
1. Flip – Touch – Screen
The articulating touch screen was one feature that sold me on the Canon 200D/ SL2.
A flip screen can be a huge advantage when you're alone and need to film yourself. Seeing yourself on the screen can help you frame and focus your shot well!
The touchscreen makes navigation of the camera options intuitive and I've hardly used the physical buttons on this camera.
2. Dual Pixel Autofocus
Dual pixel Autofocus is one of those features you don't realize you need until you actually use it. This is a feature only found in Canon Cameras (Patented Technology)
What is Dual Pixel Auto Focus?
Dual Pixel CMOS AF is a sensor-based, phase detection Auto Focus (AF) technology designed to provide smooth, high-performance focus tracking in movies and fast autofocus acquisition when shooting still photos in Live View mode. It is a unique, Canon-developed technology, ideal for creating professional-looking pull-focus effects and keeping a subject moving towards the user in sharp focus while maintaining a blurred background – a defining characteristic of EOS Movies.Thanks to this groundbreaking advance, capturing a subject and retaining sharp focus, even when moving, has never been easier. (http://cpn.canon-europe.com)
Dual pixel Autofocus with the inbuilt face recognition servo autofocus tracker system in the Canon 200D/ Rebel SL2 autofocuses on your face super accurately and lets you record sharply focussed videos even if your subject is moving around in the video. Here is a quick video to help you understand the technology.
This is especially useful for solopreneurs who create YouTube videos by themselves because they don't have to worry about their faces not being in focus when they move.
3. Latest APS-C sensor
The EOS 200D features a large 24.2 MP, APS-C-size CMOS sensor, and the new DIGIC 7 image processor, enabling users to shoot in low-light conditions such as at night or indoors.
By setting their native ISO speed settings at up to 25600 (expandable to ISO 51200), you can record videos that retain all the details and colors with minimal noise.
4. WiFi, NFC, Bluetooth connectivity
The Bluetooth and NFC connectivity options on the Canon SL2 allow me to remotely control the camera from my smartphone and also quickly download>edit>upload the photos to social media.
The Camera app allows me full control, even allowing me to switch between image and video modes without physically changing the button position on the camera.
Further connections include a 3.5mm stereo microphone jack, a wired remote jack, a Hi-Speed USB 2.0 port, and a Mini HDMI Type-C video output.
Canon SL2 left side – microphone jack and remote jack
Canon SL2 right side – Hi-Speed USB 2.0 port and mini HDMI type – c video output
Image References: http://www.imaging-resource.com/PRODS/canon-sl2/canon-sl2A.HTM
PORTABLE AND USABLE FOR ALL YOUTUBE GENRES
The Canon SL2 is one of the smallest camera bodies in the market which makes it extremely portable and usable in various situations.
The Canon sl2 can also be used for various genres of YouTube videos like vlogs, tutorials videos, talking head videos, etc, with ease because of it's small size and portability.
Conclusions
So should you get one? Yes! If you have the money or have some EMI options, I highly recommend buying the SL2.
There is no doubt that the Canon EOS 200D/ Rebel SL2 it's a great DSLR and cost-effective. but that doesn't necessarily make it the "best" camera for YouTube.
Over the years making different genres of YouTube videos (Vlogs, tutorials, unboxing, live streams etc) I've realized that different cameras shine in different scenarios.
For example, the Canon 200D cannot be used for live streams. Livestreams are a powerful way to connect with your audiences and also a great way to create long-form content which in turn gains you brownie points with the search engines.
Another example. It's more practical to carry your mobile everywhere and shoot with it.
Phones now days offer 4K recording. A decent phone with the Rode video mic me microphone can create similar video quality for much lesser than the cost of a DSLR.
Other BEST Cameras for YouTube?
Keeping all this in mind, the two other cameras that I recommend for first time YouTubers is the Logitech C920 and your phone camera. Even if you don't have the money to buy a 200D, you could still make great videos with these normal, frugal tools.
See Price of Logitech C920 now
The reason I recommend this to beginners is that if you cannot make YouTube videos using these simple tools, then a DSLR will not help you. You would have simply wasted a ton of money on expensive equipment without knowing how to create YouTube videos that convert and drive traffic to your business.
All the videos that were created during the first 3 years of my channel were using the Logitech C920 webcam.
Here is a video which I made with the Logitech C920
I'm a huge fan of and recommend the Logitech C920 webcam because it records at 1080p and is highly versatile. It can be used for a number of things, like live streaming and recording YouTube videos or Udemy videos etc, and that's why I recommend the C920/C930 as your first dedicated camera purchase for YouTube!
If you'd like to learn more about how to record videos with your phone, I recommend reading this handy tutorial that Wistia put together.
More Recommendations
I hope that help! Let me know in the comments section if you have any questions and I'll be happy to answer them!